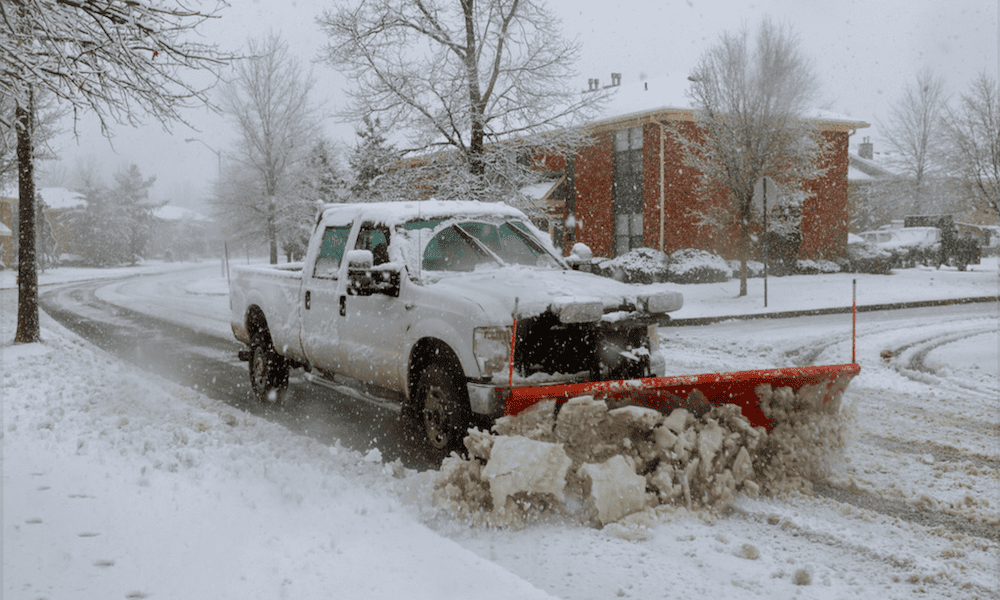 Winters in New Hampshire can begin as early as October and stick around into April. Snow, ice, and below-freezing temperatures demand near-constant attention by property owners in order to maintain clear driveways, parking lots, walkways, and roofs from December through March. As such, snow and ice removal can be a profitable enterprise. Before jumping into this line of work it is important to consider the potential pitfalls of dealing with snow and ice and have an honest conversation with your insurance advisor to ensure they can provide you with adequate insurance protection. Below are five steps every snow removal business should check off before each winter.
Discuss your snow removal operations with your insurance advisor. Be honest about your scope of work to avoid unwanted gaps in coverage. Are you plowing? Sanding? Shoveling/snow blowing? Clearing roofs? Be prepared to break down your percentage of work for private households vs. commercial properties. Do any of your commercial clients require any specific wording in their contracts? If so, discuss these requests with your advisor. If you have a snow removal contract, provide it to your advisor.

Make sure every vehicle that will be plowing and/or sanding is listed on a commercial auto policy that lists snowplowing as a covered operation. When plowing or sanding for profit, the vehicle(s) being used must be listed on a commercial auto policy that specifically lists snowplowing as a covered operation. Coverage could be in question if plowing for hire using a vehicle listed on a personal auto policy or if using a vehicle listed on a commercial auto policy that does not list snowplowing as a covered class of business. For example, listing landscaping as the only class of business on a commercial auto policy and not disclosing snow plowing operations may result in unwanted coverage gaps should an incident occur while plowing. Some commercial auto policies even exclude coverage for plowing outright unless additional coverage is purchased. A commercial auto policy will provide liability coverage subject to policy limits to cover bodily injury and property damage caused by a covered vehicle and attached plow/sander. The policy will also provide physical damage coverage to repair or replace a covered vehicle if comprehensive and collision coverage are selected subject to policy deductibles. Consider adding a commercial umbrella policy to supplement your commercial auto liability limit.

Be sure to have a commercial general liability policy in place that specifically covers your snow removal operations. Make sure if you're plowing then your policy covers you for plowing, if you're removing snow and ice from roofs then your policy covers you for roof shoveling, etc. If you're not sure, then ask your advisor. General liability policies are of the utmost importance for snow and ice removal operations because they provide coverage for slip and fall injuries that so often occur in the winter. You may be held liable for bodily injury sustained on a walkway, driveway, or parking lot you plowed/sanded even if you did not directly cause the injury. General liability coverage also pays legal fees to defend you from unwarranted claims in our increasingly litigious society. Consider adding a commercial umbrella policy to supplement your commercial general liability limit.

Purchase coverage for your snow removal equipment, such as plows, sanders, and snow blowers. Commercial auto policies have limited coverage for attached equipment such as plows and sanders and standalone general liability policies provide no property protection for tools & equipment. Consider purchasing coverage for your equipment so that you can get back in the game if your equipment is damaged or stolen. Be prepared to provide your advisor with the year, make, model, serial number, and value of all equipment you'd like to insure. The cost of insuring your equipment usually depends on the value of the equipment.

Ensure workers compensation policies are in place for all employees who are performing snow removal operations (if any). Snow and ice removal can potentially be dangerous. Among the many hazards are slips and falls on slippery surfaces (icy walkways, driveways, roofs, stairs, etc), back injuries from shoveling heavy snow, and even hand/arm injuries from attempting to unsafely unclog a running snowblower. Sole proprietors should consider carrying workers compensation or disability coverage on themselves to maintain steady income should they suffer an injury. Businesses with employees are required by the New Hampshire Department of Labor to carry workers compensation coverage. Consider adding a commercial umbrella policy to supplement your workers compensation liability limits.

The additional investment in general liability, commercial auto, and workers compensation coverage can be a significant one, but the peace of mind and mitigation of risk the proper insurance protection provides against loss of income and assets is well worth the additional cost. You should consider your insurance portfolio to be just as integral to your snow removal operation as your trucks, equipment, and manpower.
The Insurance Outlet's trusted advisors would be happy to perform a comprehensive risk analysis of your snow removal operation and design a personalized solution to meet your needs! Please call or text us at 603-527-8050, or stop by our local office at 174 Court Street in Laconia, New Hampshire.